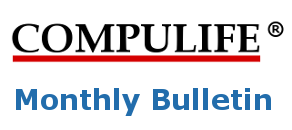 Update News for March 2022
Update News

for March 2022
Here is a quick run-down on what you will find in this bulletin:
That was a Surprise


The Legal Process Continues


6 Plus 6 For 6
40th Year Celebration Referral Opportunity


How Do You Make The Referral?


This is a SPECTACULAR Deal


Our Current Programming Plans for 2022
These topics will be dealt with in more detail throughout this bulletin.
That was a Surprise
Last month we offered a special referral opportunity with VERY generous bonuses for referral. This is the BEST and most GENEROUS referral opportunity that we have ever offered. In response we heard very little. I am leaving last month's offer in this bulletin with the hope that you will give it a second look, or a first look if you did not see or read it last month.
Basically we have two options for finding new subscribers. We can either compensate our subscribers for referrals, or we can go back to running advertisements. If referrals don't get the new business that we need, then we will run ads.
We do need to add new subscribers. A number of our subscribers have been retiring and the number of new subscribers has been lower than the retirements. As a result we are seeing a slow reduction in our customer numbers. It has not hit our bottom line as we have continued to add new products and services which are generating replacement revenue, but we prefer a bit of money from a lot of people versus a lot of money from a smaller group of people.
The Legal Process Continues
We were back in court during February and we will have to appear again in March.
The February hearing was regarding a motion that we brought for civil contempt of court against the defendants who we have sued. In the October 2021 decision, the court found in our favor and issued an injunction to the defendants which said:
THE COURT ALSO ORDERS THAT inasmuch as the proof at trial demonstrated that the defendants are in possession of the plaintiff's trade secrets, that defendants have repeatedly misappropriated the plaintiff's trade secrets, and that the misappropriation has continued to date, pursuant to 18 U.S.C. § 1836(b)(3)(A)(ii) and Fla. Stat. § 688.003(3), the Court hereby determines that requiring the defendants to take affirmative actions to protect the plaintiff's trade secrets is appropriate, and therefore HEREBY ORDERS THE DEFENDANTS Binyomin Rutstein a/k/a Ben Rutstein, David Rutstein a/k/a David Gordon, Moses Newman, and Aaron Levy to
immediately discontinue the provision of life insurance quoting and quotation services and the use of life insurance quoters on the websites at the domain names www.naaip.org and www.beyondquotes.com
, and file a certification with the Court confirming that the provision of life insurance quoting and quotation services and the use of life insurance quoters has ceased at the websites at www.naaip.org and www.beyondquotes.com within five (5) business days of the date of this Final Judgment and Permanent Injunction.
Despite the fact that they had NOT complied with the injunction (our opinion), the defendants filed a certification that they were in compliance. We disputed their claim by making a legal complaint and appeared in court to make that case. We are now waiting for that decision.
The defendants have also put us on notice that then intend to file an appeal against the October decision and so we will be attending a required "mediation" meeting (with a judge) prior to their appeal being heard by the appellate court.
While all this continues the defendants now claim on their website that they have over 14,600 users on their website. Each of those customers continue to be offered the option of a free "Life Insurance Quote Engine".
While these quote engines are DEFECTIVE for a number of reasons, it is clear that many life agents are quite content with DEFECTIVE quote engines because so many offer those life insurance quote engines on their websites. Regardless of how bad they are, they still have the ability to attract consumers who can contact the agent from the quote results thereby indicating to the agent that the consumer wants to buy life insurance and giving the agent the consumer's contact information.
We think that this lead generating capability is all that many agents want from the quote engines and the agents clearly don't care if the quotes that they are providing to the public are up-to-date, accurate or defective (which doesn't say much for them). What is bad for Compulife is that the defendants continue to offer a service that relies on quotes that were taken from Compulife without having to pay anything for them. Their persistence use of our material, despite the lawsuit and decision, underlines just how important having a "Life Insurance Quote Engine" is for these agent websites. If agents don't care about the qualify of the quotes, why would they pay for something that they can get for free?
6 Plus 6 For 6
40th Year Celebration Referral Opportunity
For the next 6 months we are going to offer a special "6 free month referral opportunity".
As background, all new prospective subscribers to Compulife start out the same way. If a prospective subscriber contacts us directly, we give them a 30 day free trial for Compulife's PC software. If that prospective subscriber does a 10 minute tutorial, to show that they have learned to use the software, then they get 4 free months of service.
We BONUS for referrals – both the person who made the referral and the person who they referred.
If an EXISTING subscriber refers that person to Compulife for a free trial, then the prospective subscriber gets 6 free months instead of 4. That's a nice bonus for the person you referred. For you, the person making the referral, we give you a free term4sale "home" zip code for 2 years plus the balance of the current year that we are in. That's for you, for making that referral.
For the Next 6 months we are doubling YOUR bonus!
For the next 6 months, as part of our 40th Year Anniversary, we are going to sweeten YOUR compensation for those referrals. IF your referral does the tutorial and signs up for the 6 free month subscription (no obligation to buy at the end of 6 months), then you can get compensated with your choice of:
2 FREE local zip codes – for two years plus the balance of 2022
    or
6 free months added to your annual subscription to Compulife *
* NOTE: This does not include 6 free months for the Compulife Batch Analyzer or the Compulife Internet Engine or bulk purchase sub-user licenses
For those of you who are active participants to Term4Sale, and always anxious to add more zip codes, this should be a NO BRAINER. 2 local zip codes can be added to your account and even IF you have maxed out on your allowed number of additional zip codes, then we allow those added HOME zip codes over and above that limit. FURTHER, local zip codes give you the option to "bump" subscribers out of your local area. While you cannot use the bump option until the week of November 7th, 2022, you still get to add those two zip codes IMMEDIATELY and choose zip codes on a first come, first served basis (which assumes the zip code does not already have 3 agents listed in it).
You can accumulate these bonuses!
If you refer 6 people, and those 6 all do the tutorial, you get 12 zip codes added to your account, and they will be considered paid to the end of 2024.
REMEMBER: For the Next 6 months we are offering an important alternative bonus.
If you don't care about zip codes or term4sale, then those same 6 referrals who do the tutorial to get 6 free months will get you 6 X 6 months added to your subscription. Once again, if you did 6 successful referral that would add 3 free years to your subscription.
There is no limit to the referrals.
If you refer more, and your referrals do the tutorial, you get ANOTHER 6 free months for each referral. The only limit is August 1st. If it is August 1st or later, you will have missed your opportunity.
How Do You Make The Referral?
EASY, go to this web page:
Remember: There is NO limit.
How you don't sit down and put in the name of EVERY fellow life insurance agent you know would be a mystery to me. I guarantee you that when this SPECIAL referral opportunity ends on July 31st, you will be kicking yourself for not having taken advantage of it.
Is there a catch?
YES there is always a catch. Your referral has to take the 30 day FREE trial email that we have sent to them, and they must DO THE TUTORIAL. If they don't do the tutorial, then they don't get 6 free months. If they don't do the tutorial, and get the 6 free months, then YOU don't get 6 free months.
You can help this process by making sure your referral knows that to get the 6 free months they have to do a tutorial. To review, there are two benefits for the prospective subscriber when they do the tutorial:
1. They learn how to use our software
2. They get the software for 6 free months
I have said many times that if someone doesn't learn how to use the software, then they won't use the software. If they don't use the software, they won't find out that it will make them money. If it doesn't make them money, then why would they buy it?
If they do get the 6 free months, there are 4 things that come FREE for those 6 free months:
1. A free subscription to the PC program
2. A free subscription to Compulife Basic
3. Web quotes for their website
4. 3 Zip Codes At Term4sale
One more catch. The person referred cannot have had a subscription to Compulife in the last 24 months. (a subscription includes a 4 month free subscription)
And the biggest catch of all – you can't get any of this if your don't make a referral.
This is a SPECTACULAR Deal
Enterprising subscribers will be in a position to get a lot of free software, for a long time, by simply digging through their list of fellow agents and pitching them on the value of doing a Compulife Free Trial and Tutorial. And even explaining the value of Compulife is VERY SIMPLE. Just sent your potential referrals a personal email with a link to this:
So for 10 minutes of homework, your referral gets to find out for a period of 6 months if those Compulife subscribers are telling the truth. You're a subscriber, you already know – they don't.
And here's the last catch which may be fatal to the concept. Many subscriber do NOT want fellow agents finding out just how good Compulife is, because if those fellow agents know what you know, they might end up one day competing with you. OK, I get that and if that is your logic then I can see how you would want to keep the big secret all to yourself.
But for those of you who are NOT worried about other agents being better than you, I think this 40th year anniversary special is VERY SPECIAL. We have NEVER offered a deal this good to our subscribers, and if you want to hang around and wait for the 50th anniversary special, to see if there might be an even better deal, then go ahead. But depending on how hard you work at making referrals, you may be able to get to the 50th year special without having to pay for software (20 successful referrals get you there).
Our Current Programming Plans for 2022
The following is the current order for new work that we will be doing in 2022:
Introduction of New PC Version: CQS.EXE
Overhaul Of Current Product Data Files
Introduction of Compulife Basic Plus (with Pick 12)
Anyone with questions about any of these upcoming projects can call Bob Barney to discuss:
(888) 798-3488
Please don't email me essay questions, just call. If I'm not in, email me your phone number, I'll call you.
These planned objectives will easily consume our programming time during 2022. The good news is that once the product data files have been converted, and we have introduced the new CQS.EXE, and upgraded our internet engine to use the new data files, Compulife will be turning it's full attention to our web based, Compulife Basic software. The long term goal is to have a web based product that does everything our PC based software does.