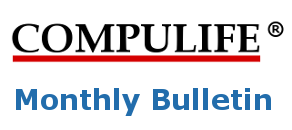 Update News for October 2022
Here is a quick run-down on what you will find in this bulletin:
40 Years Is a Long Time

Inflation and Price Changes for 2023

You Can Lock in Current Prices
And Get Discounts for Multiple Years

Term4Sale Listing Fees – UNCHANGED

Compulife Forms Library
is YOUR Forms Library

6 Plus 6 For 6
40th Year Celebration Referral Opportunity

How Do You Make The Referral?

This is a SPECTACULAR Deal

Our Current Programming Plans for 2022
These topics will be dealt with in more detail throughout this bulletin.
40 Years Is a Long Time
My wife and I incorporated Compulife in Canada in October 1982. This month is our 40th year of business.
My first programmer and I had actually been developing software for a few months before that and we were getting close to a first product by the time of the incorporation. By the end of 1982 our first sale was to a man named Dick Gilbert. If I recall correctly Dick and his partner purchased software and a computer from us, a Morrow Micro Decision CP/M based system.
We sold a number of those in the day, and our first software ran quite happily on them.
The alternative to the Morrow was the Kaypro which we called a "luggable" 30 pound portable. This old Kaypro ad is quite funny:
NOTE:   I love visiting the past on YouTube.
We sold great value computers, that were low cost, and combined that with software that helped agents find low cost insurance products for their customers.
By the way, Dick is still a customer today. He has since upgraded from that first Morrow. I wonder how many computer upgrades you have made in the last 40 years? It's amazing to think that very few people had computers 40 years ago. Here's a scene from a movie about a young man who was raised in a bunker, and who missed out on the personal computer revolution:
We were routinely selling computers and software through the entire of 1983 and it was a big deal when we celebrated 10 systems, then 25 systems, etc.
In October 1987 we incorporated in the U.S. and opened our first office in Amherst NY (just north of Buffalo). It was a two hour drive from the Canadian office. By that point it was all PC software and we didn't have to sell any computers to anyone. Prices had dropped like a rock and there was no margin in selling hardware anymore.
Our initial advertising in the U.S. offered free software service in return for an agent sending in 6 of their favorite term rates cards. It's how we first made connections with potential U.S. subscribers and how we first began to find out which companies were popular and how we first got their rates and product information. By 1990 we had about 150 "free roll" subscribers and a fairly strong software program which required a lot of adaptation from the Canadian version. At that point we stopped the free service and said that those people could continue for $49 per month or $490 per year (which is about $127 per month or $1,270 per year in today's money). Our numbers shrank to about 50 subscribers but we were off and running.
NOTE:   Prices have dropped since then.
In August 1997, with green cards in hand, our family moved to Kentucky. We closed down the NY office and opened our doors in KY. We have now lived in the U.S. for the past 25 years and are grateful that the U.S. took us in.
For people who think of their work as a "career", 40 years is a pretty long time. If a person was 25, and put in 40 years of work, they would be 65 and thinking (possibly) about retiring. If you had a defined pension plan and getting 2% per year, that would mean a retirement income with about 80% of your last 5 years of pay and no more having to go to the office.
I was 28 when I started Compulife which means I am now 68. A lot of our subscribers were older than I was when we started the company, and a lot of our subscribers are still older than I am at 68. The fact is that we work in a great business where you can work as long as you want and MANY life agents like what they are doing and continue to work, some well into their 80's. Even playing too much golf can start to feel like work and selling life insurance actually pays much better.
I have no plans to ever retire. Thank God I am still fairly healthy with only minor issues and my dad worked for our Canadian company until he was over 80. God willing, and the creek don't rise, I have a few years left. I plan to keep working until I get in the way at which time we will to transition the company to the next generation of our family.
Jeremiah, as some of your will know, is married to our oldest daughter Aimee and they both work for the company. Aimee is backup to my wife who works in the main office with Jeremiah. Jeremiah is the newest employee and has been with us for a decade and a half. I remember the days when Aimee and her two brothers, all very young, would sit in front of the disk duplicators waiting for those red lights to turn green. They all worked to generate money for college.
Our other two employees, who are not blood related, certainly feel like family. Chris (our programmer) and Donna (our Canadian office manager) have both been with us for about 3 decades. We have a very stable group of people and so far everyone seems happy. They are all younger than my wife and I and so the plan is to continue to provide seamless service for the rest of "my" life and for some years beyond. There grandkids that have to eat, go to college, etc. Lots of insentive to stay at the job.
None of this would mean anything without you who are our customers. Without people who buy our product and make all this happen, we could not do what we are doing. That's been true for all of those 40 years. Thank you and thank you. In responses to your ongoing support we plan to keep on working hard and will do so as long as we are able.
And as I have shared with you before, I am deeply concerned with the future of our country's economy and I would HATE the idea of having to rely upon a load of cash in the bank which I am pretty sure is going to be turned into worthless paper by the liberal socialists currently running the show. $31 trillion in debt, and you can quadruple that by adding in the unfunded (current) Medicare and Social Security entitlements. This mess is going to come to an abrupt and bumpy end, and I think the outcome will have most of us needing to work just to put food on the table.
Inflation and Price Changes for 2023
I am old enough to remember Jimmy Carter and his inflationary mess and I know that we are heading down the same rabbit hole only worse. The inflationary cycle is ONLY getting started.
The key to responding to this is to make annual increases in prices close to the inflation rate, and NOT waiting and then hitting everyone with a HUGE increase to make up for a period of time when nothing changed.
We had a small price increase last year, and hopefully you will see this as a reasonable price increase for next year.
Compulife Basic will increase in price from $96 per year to $99 per year.
Compulife web quotes will increase in price from $96 per year to $100 per year.
That means for those customers who are primarily interested in web quoting, your total (minimum) price for web quotes is going from $192 to $199 per year. We have some competition in this area, and we will NOT be undersold. By contrast we are VERY much underselling them, with the typical low price alternatives being about $20 per month or $240 per year. And I really don't know why anyone buys the alternatives. We are less expensive, have more companies, more products, are more up-to-date and generally have much better software.
The Windows PC personal use edition is going from $192 to $199 per year. If you are personal user, and you have the webquote option, your total cost is going from $288 to $299.
The Windows PC agency edition (standard license) is going from $324 to $349 per year. If you have the webquote edition, the total is going from $420 to $449 per year.
Both PC products had price increases last year which is why the increases are more moderate this year.
The API which currently has 3 price levels based upon volume of use, will be going from $300, $600 and $900 to $330, $660 and $990. That's a 10% increase but there was NO price increase last year, and Biden's current inflation rates (I think the real inflation is higher than stated) is over 8%. I think the 10% increase is quite fair given no increase last year.
Likewise the internet engine is going from $1,260 to $1,390. The Compulife Batch Analyzer will be going from $1,920 to $2,100.
Web quote options will also be changing, some more than others. Fewer of those options are sold and so the new prices will be announced when Jeremiah updates our websites with the new prices in November.
You Can Lock in Current Prices
And Get Discounts for Multiple Years
For those who have some cash in hand, you can act now to add from 1 to 4 years to your current subscription, whatever that is. Contact us if you need to know your current expiry date by sending an email to:
You can conserve the old price, for 12 more months, by adding 1 year to your subscription.
You can conserve the old price, for 24 more months, by adding 2 years to your subscription. That's 2 times the current annual price less 10%.
You can conserve the old price, for 36 more months, by adding 3 years to your subscription. That's 3 times the current annual price less 20%.
And only until the end of October, you can conserve the old price, for 48 more months, by adding 4 years to your subscription. That's 4 times the current annual price less 25%. Put another way, you pay for 3 years and get a fourth year for free.
The 4 year option is a 40th year celebration discount and that discount will be gone at the end of October. We plan to continue the 10% and 20% discounts for 2 and 3 years.
The opportunity to keep the old pricing will not be available AFTER the invoicing on or about November 15h, which will be for January 1st renewals. Once you get that invoice, the only way to get the OLD price is to purchase a 2 or 3 year subscription. After December 1st the old pricing is completely dead.
Term4Sale Listing Fees – UNCHANGED
We will NOT be making any changes to Term4Sale listing fees at this time. Pricing at some point will change for additional zip codes, but that will be when we have time to create a more sophisticated record keeping system that tells us how many contacts are being produced by each zip code each year. Some prices will then be going up substantially, while others will be reduced. None of that can/will happen until we do some serious programming on the site, and there are too many other projects which we must address before that happens.
For those of you who have bagged some of the best zip codes at current prices, you can continue to enjoy those listings as long as you renew them. And if you don't want those better listings, we have folks eager to take them if you give them up.
Compulife Forms Library
is YOUR Forms Library
Last month we asked for some feedback on the Compulife Forms Library. Only a handful of customers responded. Clearly the forms service continues to be used, but more than one said the move in the industry is to electronic form submission. We believe that is a strong trend that will continue. We see the day coming where companies no longer provide forms in PDF (or any other printable form).
We plan to continue to offer forms for the midterm. While the sun is not setting on that yet, we are getting into the middle to later part of the afternoon for that service.
6 Plus 6 For 6
40th Year Celebration Referral Opportunity
The 6 month referral plan is coming to an end at the end of October. If you have been putting off this opportunity, it is time to get busy in order to take advantage of it before we return to the standard 4 month referral deal. I am surprised more subscribers did not take advantage of this, but then most subscribers don't read the bulletins so it should not be that big a surprise.
As background, all new prospective subscribers to Compulife start out the same way. If a prospective subscriber contacts us directly, we give them a 30 day free trial for Compulife's PC software. If that prospective subscriber does a 10 minute tutorial, to show that they have learned to use the software, then they get 4 free months of service.
We BONUS for referrals – both the person who made the referral and the person who they referred.
If an EXISTING subscriber refers that person to Compulife for a free trial, then the prospective subscriber gets 6 free months instead of 4. That's a nice bonus for the person you referred. For you, the person making the referral, we give you a free term4sale "home" zip code for 2 years plus the balance of the current year that we are in. That's for you, for making that referral.
For the Next 6 months we are doubling YOUR bonus!
For the next 6 months, as part of our 40th Year Anniversary, we are going to sweeten YOUR compensation for those referrals. IF your referral does the tutorial and signs up for the 6 free month subscription (no obligation to buy at the end of 6 months), then you can get compensated with your choice of:
2 FREE local zip codes – for two years plus the balance of 2022
    or
6 free months added to your annual subscription to Compulife *
* NOTE: This does not include 6 free months for the Compulife Batch Analyzer or the Compulife Internet Engine or bulk purchase sub-user licenses
For those of you who are active participants to Term4Sale, and always anxious to add more zip codes, this should be a NO BRAINER. 2 local zip codes can be added to your account and even IF you have maxed out on your allowed number of additional zip codes, then we allow those added HOME zip codes over and above that limit. FURTHER, local zip codes give you the option to "bump" subscribers out of your local area. While you cannot use the bump option until the week of November 7th, 2022, you still get to add those two zip codes IMMEDIATELY and choose zip codes on a first come, first served basis (which assumes the zip code does not already have 3 agents listed in it).
You can accumulate these bonuses!
If you refer 6 people, and those 6 all do the tutorial, you get 12 zip codes added to your account, and they will be considered paid to the end of 2024.
REMEMBER: For the month of October we are offering an important alternative bonus.
If you don't care about zip codes or term4sale, then those same 6 referrals who do the tutorial to get 6 free months will get you 6 X 6 months added to your subscription. Once again, if you did 6 successful referrals that would add 3 free years to your subscription.
There is no limit to the referrals.
If you refer more, and your referrals do the tutorial, you get ANOTHER 6 free months for each referral. The only limit is August 1st. If it is August 1st or later, you will have missed your opportunity.
How Do You Make The Referral?
EASY, go to this web page:
Remember: There is NO limit.
How you don't sit down and put in the name of EVERY fellow life insurance agent you know would be a mystery to me. I guarantee you that when this SPECIAL referral opportunity ends on July 31st, you will be kicking yourself for not having taken advantage of it.
Is there a catch?
YES there is always a catch. Your referral has to take the 30 day FREE trial email that we have sent to them, and they must DO THE TUTORIAL. If they don't do the tutorial, then they don't get 6 free months. If they don't do the tutorial, and get the 6 free months, then YOU don't get 6 free months.
You can help this process by making sure your referral knows that to get the 6 free months they have to do a tutorial. To review, there are two benefits for the prospective subscriber when they do the tutorial:
1. They learn how to use our software
2. They get the software for 6 free months
I have said many times that if someone doesn't learn how to use the software, then they won't use the software. If they don't use the software, they won't find out that it will make them money. If it doesn't make them money, then why would they buy it?
If they do get the 6 free months, there are 4 things that come FREE for those 6 free months:
1. A free subscription to the PC program
2. A free subscription to Compulife Basic
3. Web quotes for their website
4. 3 Zip Codes At Term4sale
One more catch. The person referred cannot have had a subscription to Compulife in the last 24 months. (a subscription includes a 4 month free subscription)
And the biggest catch of all – you can't get any of this if your don't make a referral.
This is a SPECTACULAR Deal
Enterprising subscribers will be in a position to get a lot of free software, for a long time, by simply digging through their list of fellow agents and pitching them on the value of doing a Compulife Free Trial and Tutorial. And even explaining the value of Compulife is VERY SIMPLE. Just sent your potential referrals a personal email with a link to this:
So for 10 minutes of homework, your referral gets to find out for a period of 6 months if those Compulife subscribers are telling the truth. You're a subscriber, you already know – they don't.
And here's the last catch which may be fatal to the concept. Many subscriber do NOT want fellow agents finding out just how good Compulife is, because if those fellow agents know what you know, they might end up one day competing with you. OK, I get that and if that is your logic then I can see how you would want to keep the big secret all to yourself.
But for those of you who are NOT worried about other agents being better than you, I think this 40th year anniversary special is VERY SPECIAL. We have NEVER offered a deal this good to our subscribers, and if you want to hang around and wait for the 50th anniversary special, to see if there might be an even better deal, then go ahead. But depending on how hard you work at making referrals, you may be able to get to the 50th year special without having to pay for software (20 successful referrals get you there).
Our Current Programming Plans for 2022
The following is the current order for new work that we will be doing in 2022:
Introduction of New PC Version: CQS.EXE
Overhaul Of Current Product Data Files
Introduction of Compulife Basic Plus (with Pick 12)
Anyone with questions about any of these upcoming projects can call Bob Barney to discuss:
(888) 798-3488
Please don't email me essay questions, just call. If I'm not in, email me your phone number, I'll call you.
These planned objectives will easily consume our programming time during 2022. The good news is that once the product data files have been converted, and we have introduced the new CQS.EXE, and upgraded our internet engine to use the new data files, Compulife will be turning it's full attention to our web based, Compulife Basic software. The long term goal is to have a web based product that does everything our PC based software does.