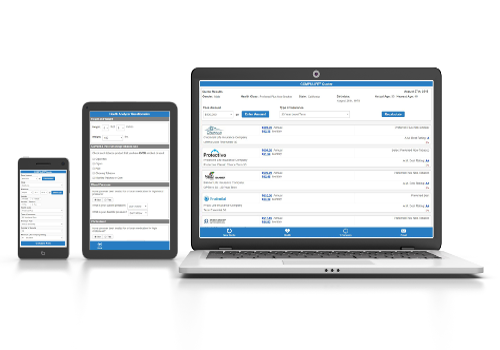 The COMPULIFE Basic Quoter works on any device that is connected to the Internet. With its mobile-first design, it is fully responsive and works on any device such as a PC, MAC, iOS, Android, etc.
The COMPULIFE Basic Quoter can be purchased by itself for $99/year and you have the option to add the Website Quoter for an additional $100.  The $199 is the lowest price for the Website Quoter subscription.
If you purchase the PC Software, the Basic Quoter is included with your subscription.  If you are already a subscriber and need the instruction email for your Basic Quoter, please contact us.
 Basic Quoter Subscription Application (U.S.)

For your security, we do not ask for your credit card information on our website. To pay by credit card, submit this application and then call us at (800) 798-3488 to process your payment.